We don't go away often. Don't get me wrong, we love to travel. If we could, we'd go away more often but we have one thing that holds us back, our dogs.
Ok, really it's two things.
Our dogs are my babies. I pamper them. I spoil them. Many say I treat them like human beings. These are my babies: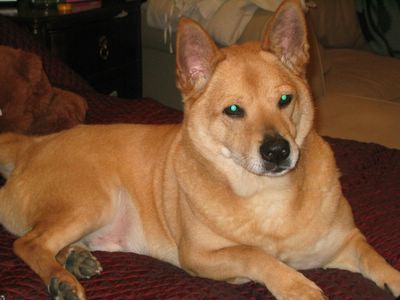 P-man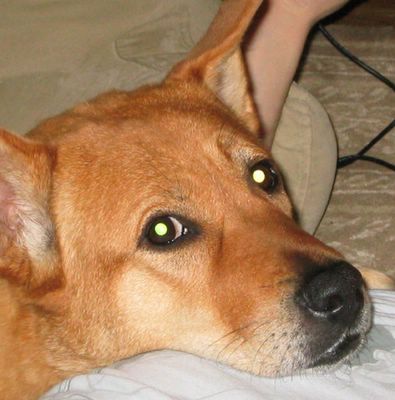 Z-girl
In my eyes, no one can love these babies like I do. That's why when we go away I fret. Knowing my tendency to worry, my husband has taken on the duties to find good boarding for them. Usually we leave them with friends or have our dog walker (when we had one) watch them.
Since the dog walker we'd consider is watching another pooch we decided to board them.
Lrudlrick found this place and from his descriptions, images of Kellerman's or Mount Airy Lodge come into my mind.
Lrudlrick told me they gave him a full tour and they had seating areas and a large lounge area.
I wonder if they call it 'The Bark-a-Lounge'.
They do individual walks and customize feeding times.
Setting aside the fact that the description sounds more pampering than my vacation and that the cost is comparable to our 'human' vacation expenses, I'm still apprehensive. I can't let my fear cancel my vacation though.
Neurotic pantrygirl has now printed out a list of emergency contacts, including our vet. The contact numbers are ridiculous. I had planned to just list our cell phone numbers but then Lrudlrick pointed out that we could forget our chargers or we could have spotty cell phone reception. So now, I've got every number on the island from the rental to the police station. I was two steps from laminating the darn thing when my husband stopped me.
I've packed copies of their vaccinations and included a schedule for their walks and feedings. Every item has now been labeled with their names clearly. I've packed an old t-shirt with our scent on it and a squeak toy.
I feel like I'm packing my kids for camp.
I kissed them goodbye and Lrudlrick is now on their way to drop them off.
pg:
Make sure you tell them about P-man's leg.
L:
ok.
pg:
and make sure you tell them to give them their bath on the last day not the first.
L:
ok.
pg:
and be sure to give them the emergency contact list I gave you.
L:
You're only prolonging the inevitable.
pg:
ok. Ok. I love you.
L:
I love you too.
pg:
No. I love you guys. I love you.
kiss
I love you.
kiss
Since writing this, the anxiety has diminished slightly. I know they'll be fine. I'm sure they'll have a blast.
I also want to thank our friends for checking in on our pooches while we are gone. I really appreciate it.
Now I have to get back to packing. How do you lose a bicycle rack in a one bedroom apartment?